Make Your Language Clear
When writing instructions for your users, it's important that the messaging is clear. Here's a quick example when adding a user as a contact on Flickr: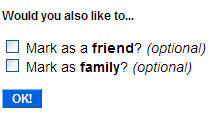 When I first read this I thought to myself, "Who's Mark? I'm not adding Mark as a contact." It took me a couple seconds to realize that mark was a verb and not a noun. Including the contact's actual name as in, "Mark John Smith as a friend?" would have made it more obvious. Although, I think it'd be even clearer if it just said "Is John Smith a friend?"