Behind the Process: Snitter Icon
I built this desktop application a while back called Snitter. It's a desktop Twitter client that runs on Adobe AIR. Alas, it fell by the wayside during my freelance tenure. Recently, I've had the inclination to start working on it again and bringing forth to reality ideas that I've had for over a year now.

One of the things that always bothered me was the rather rushed icon. A rather boring S. I was just happy that I had a desktop app with its own icon. I knew I'd get around to getting a new, more polished icon at some point.
Who can? A Toucan.
Being a Twitter app, I wanted to stick with the bird motif but also wanted a bird that had some colour to it — especially green. The toucan came to mind, as images of Toucan Sam and his colourful beak filled my head.
In doing research on toucans, I came across a page on Toucan totems.
The toucan represents communication and showmanship. The toucan's colorful appearance and large bill indicates a strong desire to be seen and heard.
If anything sounded more appropriate for a Twitter app, I haven't heard it. The toucan was now the bird.
Initial Sketches
I'm not an icon designer, so I enlisted the help of Mike Rohde. The fact that he said yes to a free project was music to my ears. I gave him some simple direction that I wanted the icon to be a toucan and he came back with some initial sketches.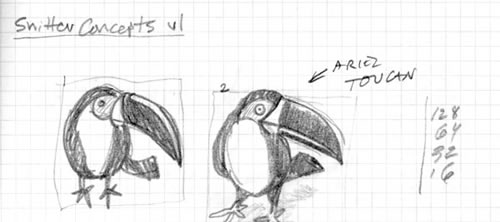 I was definitely starting to get excited. I had started to provide Mike with some further direction, indicating that I really liked the bird looking over the shoulder. I felt it provided more balance and would be easier to work into an icon.
Alas, a year had gone by and my ability to work on Snitter had disappeared. Sadly, so had Mike's free time. Mike had to bow out. Having been in his shoes, I completely understood.
Inspiration
Now on my own, I thought I'd give icon design a try.
One thing I did differently than any other design project I've done before was to create an inspiration document where I threw in a bunch of photos and icons that I liked.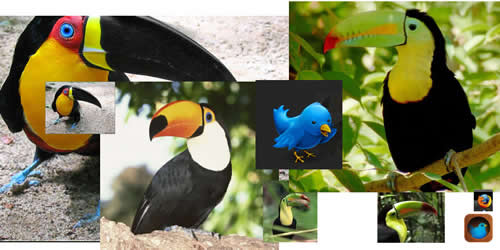 When you see the final icon, I'm sure you'll see where much of the inspiration has come. I started by actually tracing out the shape of one of the birds that was looking over his shoulder. Using the pen tool in Fireworks, I traced out the beak, the head, the chest and the body. The shapes had flat colours and I really just wanted to get the basics of the shape in place.
Circle-bound
Two things that I was missing were a tail and feet. As I started to put the tail in, I begun to see the circle shape come into play. I drew a circle and placed it behind my vectors and tried to lock everything into that shape. I was drawn to using the circle based on the Twtterrific and Firefox logos. (I was tempted to have my bird circle a globe but thought against it.) This is definitely where the most progress was made.
I had a tail in place and then started on shading. I layered vectors over top of what was there, playing with gradients and colours to create the effect that I wanted. It was after this point where I really started liking how things were coming together.
When I posted this version to Flickr, a few people mentioned its similarity to the Aviary Toucan. They did a fantastic job with that toucan. One thing that was extremely evident was how tightly they stuck to a circle for the beak, head and into the body and then breaking out of that with the wings.
I took that inspiration and went back to tweaking my toucan. I still didn't want to stick too close to the circle but I did lengthen the beak, having it follow the edge of the circle, instead of having a more defined hook nose. Where the beak meets the head, I decided to leave it as-is. I didn't want to stylize the bird too much.
Stay on the ground or fly?
I still had no feet and I wasn't really loving the wings. Trying to play with the circle, I tried to get the wings to complete the left side of the circle but everything I tried felt unbalanced, leaving a large space right in the middle of the logo.
Starting to grow weary of using the pen tool to shape things, I switched to use circles to punch shapes into crescents for the wings. It was at this point that I used a circle to punch the shape of the toucan's back. I liked it.
When I rotated the crescents I had, I tried shifting them into the middle of the space between the head and the body. The crescents were so large that they inadvertently popped out on the other side of the bird. Wait, it looks like wings on the other side! This happy accident got me exactly what I wanted.
With the bird in flight, I no longer had to worry about the feet. I tried a couple different things earlier to get feet but they all looked hideous. Feet are not my forté, it seems. No worries, as I was really happy with how things were shaping up. (a little vector humour there...)
I continued to adjust the shadows, adding highlights to the bottom and the wings to give the bird a little more depth. Finally, I was happy with the result. Like, really happy.
Let it fly!
This will be the icon for the next version of Snitter, which I'm hoping to have out in a couple weeks.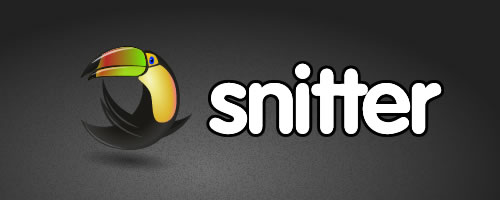 As an added bonus, I'm linking up the final Fireworks PNG. Download it and check out how it's all put together. The design is copyright so don't go throwing toucans over everything but pick it apart and use it to inspire your next design. The Fireworks file was created in CS4 and uses the Pages feature where I have an earlier version on page 1 and then the final version on page 2 (a cheap way to do versioning).