Working with Shapes in Fireworks
A number of people who saw the Prototype Dissected pictures seemed awed. "It must have taken forever to put them together." As the case happened to be, my time was really spent on working my way through the JavaScript. Here's some Fireworks tricks that I used on the cheat sheets and that I use on a regular basis.
The Assets Panel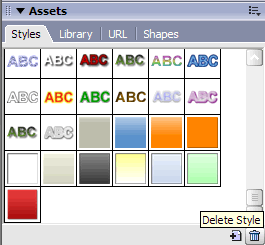 For the longest time, I never used the assets panel. It seemed filled with ugly effects that were never appropriate for anything I was working on. As it turns out, it really comes into its own when I start populating it with my own styles. Any time I have a shape or text with the right combination of effects (drop shadows, gradients, outlines) I add it to the assets panel. Then, on any new shape I create, I just click on the style in the assets panel.
For the Prototype sheet, I created styles for each of my elements. There was only 4 or 5 different styles used.
Combine Paths
I love combining paths. There are four different types found under the Modify > Combine Paths menu: union, intersect, punch, and crop.
Union will take two or more paths and combine them into one large shape. This is how the starburst on the helper functions was done. I created a rounded rectangle and then a star (using the star shape tool). Overlap them, and then hit Union. Bang-o!

Intersect I don't use often. It takes two or more paths and combines them into one shape but only keeps the areas where the shapes overlapped.
Punch is the other one I use most often. It takes the top path and it punches out of any of the selected paths below it. For example, want to create a half circle? I used to use the knife tool and just slice the shape in half but I found it didn't connect the two end points. Try putting an outline on the shape and you'll see that the outline doesn't go along the straight edge. Using the punch tool, I take my circle and then overlay a rectangle over half of the circle. Punch it and you have a half circle. Want to do some nice crescent moons? Take two circles and overlap them slightly.

Crop takes the top path and only keeps the part of any selected paths below it where the top path overlaps it.