Geranium
Geranium is the 6th restaurant on my quest to go to the World's 50 Best Restaurants. It's 19th place for both 2017 and 2018 and is a Michelin 3-starred restaurant in Copenhagen.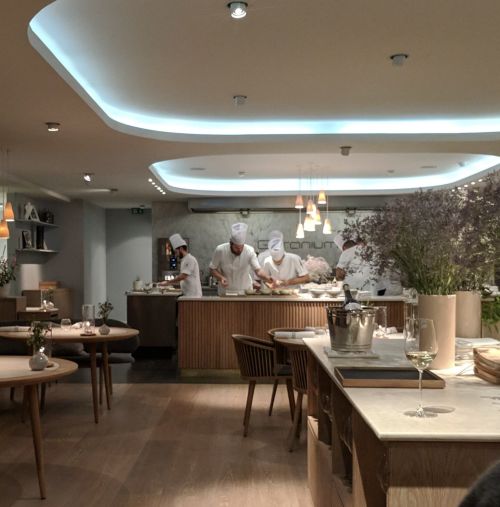 The restaurant is situated on the 8th floor of the building where the Danish national football club plays—an interesting location to be sure.
From the moment we walked in the restaurant, the service was fantastic and friendly. The kitchen prep area sits at one end of the venue and was neat to take a peek every now and then into what might be coming up next. (It's a bit difficult to see from halfway across the restaurant. There is a table right next to the prep area that you can book.)
Over the course of the meal, the servers really made us feel special. I enjoyed their synchronicity with dish placement and I definitely enjoyed them topping up my glass of wine.
---
As an aside, I find wine pairings to be confusing. Some places will do a glass with each course. I like to enjoy the particular wine before, during, and after the particular dish it's paired with. Some places, however, will pair a wine with two to three courses. As such, I'll finish the wine after a dish, only to have another plate come out with no wine to go with it.
Having them top up my glass is nice but I also don't want to be completely sloshed and stumbling a third of the way into the meal!
---
The food itself was delightfully yummy. There wasn't a bad dish to be had. The courses were mostly pescatarian, with a single duck course at the end.
However, not a single dish made the world disappear as my entire life became about this food in my mouth at that very moment. The best way to describe it is that every dish is a 9/10. A perfectly formidable rating but nothing was a 10 out of 10. Consistent and delicious but not daring.
Verdict: I think there are other places I'd seek out before Geranium. It's definitely on the pricey side but, at the same time, it was a wonderful experience and I don't think you'd be disappointed.
Also, I want their wine cellar.