Accelerated DOM Scripting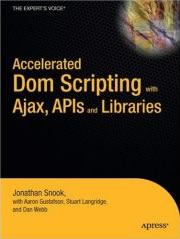 Yippeee! My largest writing effort to date has finally come to fruition: Accelerated DOM Scripting with Ajax, APIs, and Libraries published by the fine folks over at Apress.
The book was something that I started last summer after having met the senior editor at the time, Chris Mills, at SXSW. (Chris has since moved on to Opera...the browser, not the musical style!) The writing was slow going and I was unable to get much done with the book. Surprisingly, Chris stuck behind me and I continued on. In June and July of this year, I buckled down, passing on a lot of client work to focus on the book. Writing a book turns out to be a lot of work. Seriously. Writing a book is not for the faint of heart. How Molly managed to write over 30 books, I'll never know.
To help out with writing duties, Mr. Mills managed to get Aaron Gustafson, Stuart Langridge and Dan Webb to pitch in a chapter each. I'm deeply honoured to have my name next to theirs. I'm also really happy to have had Cameron Adams handle the tech review.
So, what's it about?
Well, if it wasn't a little obvious, it's basically about JavaScript. The book is a lightweight 250 pages and full of DOM scripty goodness. The book is not meant to teach JavaScript. In fact, there's an assumption that you already understand the basics like variables, arrays and the basic syntax.
The first chapter, I ease into things with a quick overview and an introduction to some debugging tools. Nobody writes perfect code so it's good to have some tools at the ready.
Chapter 2 covers quite a bit, first going over some tips on how to approach your HTML and your CSS. Then, it jumps into the different constructs of JavaScript, how to work with the document object model, and eventually moving into event handling.
In the third chapter, I look at object-oriented JavaScript along with some other topics like closures, callbacks and chainability.
With the hardcore stuff out of the way, the rest of the book builds on top of that starting with Libraries in chapter 4. Overall, I'd say the book takes a positive and pragmatic view at the use of libraries in our day to day development. In the Ajax and Visual Effects chapters that follow, I build out custom examples to explain the concepts and then show how the same can be accomplished using libraries.
Stuart takes on form validation, Aaron gives the FAQ a facelift and Dan Webb creates a dynamic help system.
Win, win, buy!
Hopefully by now I've gotten you excited enough to get your hands on a copy. You can certainly head on over to Amazon and order now, it should be shipped out fairly quickly. To help launch the book, I've got five (that's right, 5) copies that I'm looking to give away (don't forget, I'm also giving away copies of the Art & Science of CSS).
How can you win a copy? Just leave a comment on this post and five random commenters will be picked. The deadline is this Sunday, September 30, at 11:59PM. I'll announce the winners on Monday. Be sure to use a valid email address as I'll need to be able to get ahold of you if you won.
Happy scripting!