Is Digg Too U.S.-centric?
That may seem like an extremely obvious statement to some but in taking a look at some numbers after an article got dugg, I was surprised by just how much.
First, lets take a look at the country breakdown of the visitors for this site: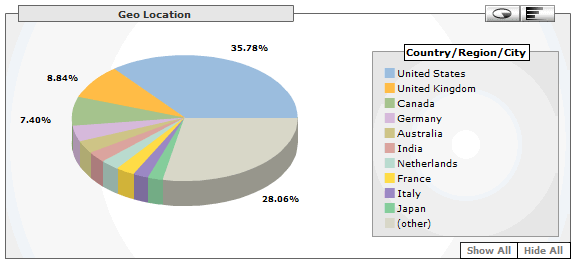 As you can see, the US is a huge chunk of that and this is fairly average from month to month. Nothing too surprising, really. Four of the top five countries are primarily English-speaking countries.
But look what happens when we isolate traffic coming from Digg: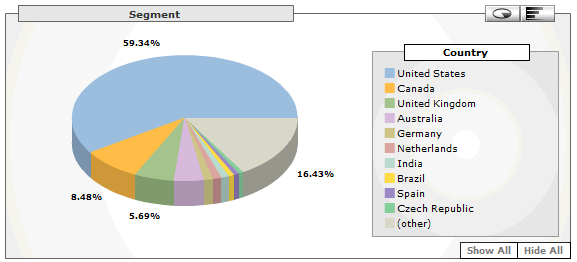 Suddenly, the US constitutes over 59% of all traffic. Canada also stays pretty strong, obviously showing a strong Digg following here, as well.
What does this mean?
As questions surround the future direction of Digg, the key question is whether there is a way that Digg can break out of its North American mold?
The two major directions they can take are:
Offer localized content, and/or
Offer multilingual content.
Localized Content
This is probably the easiest problem for them to solve. Digg would offer users the ability to tag content as relating to a particular country. Then, give users the ability to view only content from one or more regions.
If done right, like how the categories are currently set up, it has the potential to bring in more international readers, establishing microcommunities within specific niches, without feeling exclusionary.
Multilingual Content
Going multilingual is a much bigger target and certainly more difficult to pull off. At the very least, the articles themselves could be posted in whatever language and simply hope that people Digg those articles up, similar to Del.icio.us. The problem is, Digg'ing an article isn't as useful as a solitary task, it's the popularity of the masses that has given Digg it's popularity.
To create a multilingual interface, on the other hand, would allow Digg to build new communities simply based on the Digg concept and brand. This doesn't always work, though, as often times other countries already have similar services who've filled the void instead of waiting for a localized interface.
Room to Grow
Either way you look at it, Digg still has room to grow and 2007 will not be the year we see them crash and burn.