Cleaning the Cruft
Cap Watkins had a good blog post about The Dark Corners of Your UI. In it, he talks about how there are parts of a product that can easily become neglected.
At Shopify, we often have the same. We've recently assigned a designer to review a number of these dark corners and shine some light on them.
Cap is right in that many product teams won't give these areas much priority. As a product manager, I usually tried to tie these efforts into larger endeavours instead of trying to knock them off one by one.
As a front-end developer, however, these corners often result in stale code and interfaces that are outdated and don't match the rest of the product.
One of the things I did was to do an audit of every single page, including blank slates, onboarding, and external pages.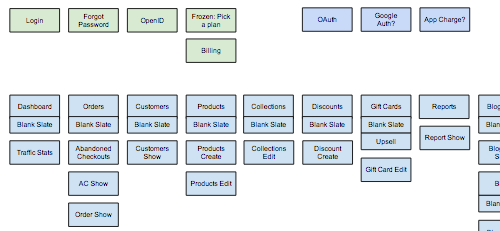 Each page is colour coded to indicate whether it uses a different layout and CSS file than the rest.
As we continue to revamp and refactor code across the entire application, we have something to reference to ensure that areas don't get missed.
We've also created a Design Systems team that is responsible for establishing patterns across the entire product and this site map provides an inventory of all the pages where those patterns are used.
In doing this, we hope to keep the spotlight on quality and avoiding any build up of cruft.