Review: Things.app
Productivity, or the lack thereof, is something that I've been struggling with for some time. Keeping track of what I need to work, when I need to work on it, and what is on the priority list are all things that distract me from getting a productive day of work done. I've tried to-do lists, white boards, post-it notes, and a variety of applications to keep me on track.
That is, until Things.app came around.
It started with the iPhone app. It seemed like a great, simple application but it still didn't fit in with my workflow. I didn't understand what the Inbox was for and adding items didn't really save me time over any other tool. When my MacBook Pro arrived, I installed the desktop version and that's when things started to click.
Things on the Desktop
To truly understand Things, it's a good idea to read up on the Getting Things Done methodology (although, I actually haven't. Everything I know of it is second hand). One of the key factors is to write it down and then file it.
Inbox Zero takes this concept and applies it to email: you address all of your items right away. That doesn't mean answering every single email right away but it does mean making note of things that you need to respond to or filing things that don't require a response. If there's something you can do in two minutes, do it. Otherwise, keep track of what needs to be done.
That's where Things comes in. I use it to go through all of my email, creating items for anything that needs to be done, and then filing away all of the emails. This solves one of my minor issues: I hate seeing the number bling on the Dock icon that I have new email. I try and check email on a semi-regular schedule and then go through it all in one go. This allows me to focus on getting things done.
As a quick aside, something new that I'm trying is setting all regular priority emails as read and only high priority emails as unread. This lets people like my wife still get ahold of me if it's important but still not be bothered by a constant stream of emails coming in.
With everything in Things, I can now use it to pick and choose what I need to work on next.
Organizing Things
Things is broken down into three different levels: Areas, Projects, and the tasks. Areas can contain projects and tasks, whereas projects can only contain tasks. Areas allow you to define generic things that need to be worked on and a project allows you to narrow it down. For example, you might (as I do) have an Area called Home Improvement. Within that, a project might include "Redo Kitchen" and within that are a number of tasks to complete the kitchen.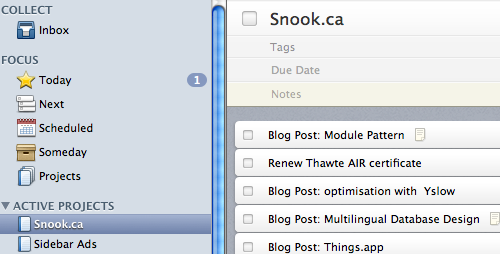 For each project that I'm working on, I create a project within Things. This goes for client and personal projects. For every task that needs to get done on that project, I add it to that project. (I'd love if there was some way to sync a sub-folder in Mail to my project list in Things.)
Things also allows you to categorize tasks by Focus area. There are 5 focus areas: Today, Next, Scheduled, Someday, and Projects. All tasks sit in the Next folder. You can also schedule tasks for a particular date (which will add them to the Scheduled focus area) or drag them into the Today focus area, to be tackled right away.
Quick Add
Whenever I have a client call, I'll use the "quick add" feature to log each of the new tasks. Each task goes into the Inbox, by default. You can specify due dates and which project the task belongs to from the dialog. I prefer to save the keystrokes and add everything to the inbox, regardless. When the call is done, I go to the inbox, select all the tasks, and drag them to the project in one fell swoop.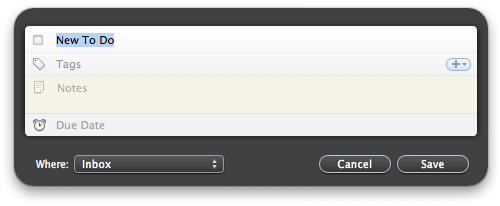 Determining what to work on
Before I begin a set of tasks, I'll peruse my Next list. Often times, it's project specific; I'll look at just that project list. I drag over tasks that I want to tackle immediately into the Today area. Items in the Today area trigger a number to appear on the Dock icon, showing how many items need to be tackled (likewise on the iPhone). Once again, my desire to be rid of that number drives me to complete the items and move on to other items.
Performing the ritual of reviewing all Next tasks at least once a day helps me stay focused and does a better job of making sure that tasks don't fall between the cracks.
Tagging
All tasks and projects can have tags assigned to them. Things comes with a number of tags such as time (15 minutes or 1 hour), priority, or challenge (easy or hard). You can, of course, define your own tags.
Tagging tasks allow you to filter the task list by that tag. If you're in the mood for writing, click on the "writing" tag and pick a task from the list. Likewise, if you want to knock some easy tasks off the list to focus on harder stuff, click on the "15min" tag.
I don't use tags nearly as often as I should but it would seem to be more worthwhile when you have a lot of tasks to be completed.
Helpful Visuals
There are plenty of helpful visual cues around the application. For example, items flagged for today will have its checkmark box in yellow along with a yellow star on the right-hand side of the task.
The Projects list shows how many tasks are within that project and a bar behind that number highlights the percentage of those tasks that are completed.
On the iPhone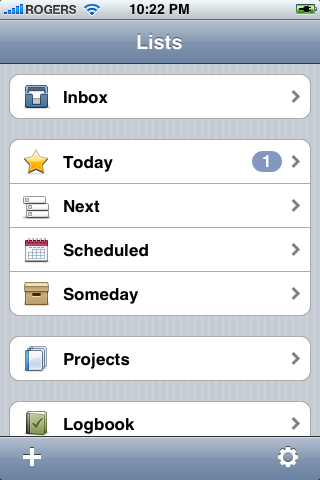 The iPhone version has many similarities to its desktop version. There's the Inbox, the various Focus areas, Projects, and the Log Book (which, stores all tasks that you have completed). There's an Add button conveniently available on all screens.
While in the Next list, a click of the star icon will allow any item in the task list to be quickly tagged for Today. There are also icons to switch the list into Move mode, or to filter the list for scheduled items or by tag.
I find the features in the iPhone app require too many clicks and isn't really the place where I want to manage my Next tasks. I leave that to the desktop application. Instead, the iPhone app is left solely to be able to review what's on my Today list.
The iPhone app can be readily sync'd to the desktop version by having both applications open. With both open, you can also force a syncronization from the desktop app.
Worth it
A great deal of attention has obviously been paid to the details and it shows. Things is simple and unobtrusive. It's actively being developed, with updates coming often (seemingly weekly at this point). They even won Best of Show at MacWorld where they launched their 1.0 version.
Things.app has a couple things that bother me, such as the lack of Areas on the iPhone version and the lack of drag-and-drop in some areas of the desktop app. It's also a little pricey, with a US$50 price tag (along with the $9.99 for the iPhone app) but I honestly believe the application has earned me that much in my improved productivity and focus.