Review: Beginning CSS Web Development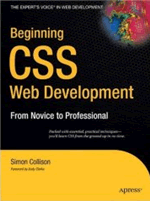 I get asked quite often which book I'd recommend for learning about CSS and up until now I've been recommending CSS Mastery by Andy Budd, et al. However, after reading Simon Collison's latest, Beginning CSS Web Development, I think I have a new default.
The book is — as it described — intended for those looking to go from novice to professional. It is split into two parts with the first explaining the basics and covering some of the main elements that will be styled in a CSS-based layout. The second part focuses on entire layouts along with some general follow-up topics like accessibility and common development pitfalls. There's even a handy CSS property reference at the end of the book.
The first couple chapters are a little slow going and I was dissappointed that Simon didn't go into more detail on some things (like all the shorthand variations) and possibly too much on others (like his use of multiple folders for managing multiple CSS files). It's hard to fault him on either, though, as this book is a reflection of his personal development style and really is meant to get your feet wet rather than be an exhaustive reference.
However, once the basics are explained, the pacing of the book is superb. The writing is humourous and makes it fun to read through what most would consider a rather dull subject.
For the more seasoned CSS developer, there won't be much new and you're probably best to stick with something like CSS Mastery. If you're a novice (or know somebody who is) looking to take your knowledge to the next level then I highly recommend this book.