Review: Pro CSS Techniques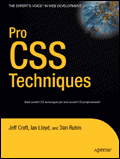 I have to say, I was looking forward to getting this book. Pro CSS Techniques is as the tagline says, "real-world CSS techniques for real-world CSS professionals." It contains very practical approaches to the issues and considerations we run into every day.
The book is well structured for the most part, starting off with a bit of a refresher on introductory CSS topics and then moving into some fun topics like specificity and cascade. It moves into a discussion on browsers and then onto managing CSS files. From there, a whole chapter is devoted to hacks and workarounds.
Much of the meat of the book (in my opinion) is from chapters 7 through 13 with individual chapters dedicated to layouts, typography, tables, forms, lists and more. Having them broken out into separate chapters like they are make them a handy reference.
Hacks are revisted again at the end of the book in "Everything Falls Apart" along with appendices for a CSS reference, a specificity chart, and a browser grading chart detailing browser support for each CSS property.
Each chapter is well written and the writing style of each of the authors made the book a comfortable read. There's good coverage and would be a book I'd handily recommend to friends.
Nitpicks
This peeve is really directed at publishers, but with multi-author books, it's nice knowing who wrote which chapter. Every author has a personality that comes through in the writing but when I can't attach a name to specific text, I'm irked ever so slightly. In this book, it was somewhat obvious just based on the writing styles of each author. Jeff Croft has a lot of humour. Dan did as well (plus he used examples that had "Dan Rubin" plastered all over them). Ian Lloyd took a more, "just the facts, ma'am" approach.
hasLayout
For a "pro" book, I felt more time should have been spent on covering hasLayout. It may have helped clarify some of the layout oddities that tend to occur in Internet Explorer and why certain fixes work at resolving them.
Print Stylesheets
I also felt that print stylesheets information was fairly introductory. Including some info on page-break-*, for example, would have been nice to see.
Is this the book for you?
Overall, this book was an enjoyable read and it was a good nuts-and-bolts type of book. They covered the practical day-to-day issues that we run into and ways to solve them. If you're an intermediate to pro-level developer, Pro CSS Techniques would be a practical addition to your bookshelf.