Review: Pro CSS and HTML Design Patterns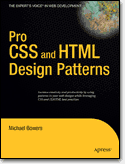 Michael Bowers takes an interesting approach with his book, Pro CSS and HTML Design Patterns, by having created what I'd consider an encyclopedia approach. A number of different layout and design patterns are presented with their HTML and CSS solutions.
Because the book is very referential, it's unlikely that you'll pick it up and read it from beginning to end. It is, however, a great book to have at the ready when working through a design.
There are solutions for:
layouts,
callouts and quotes,
drop caps,
sprites, and
alerts like inline, hanging, floating or tooltips.
The first third of the book covers basic stuff like box model handling and positioning. The middle third gets into various layouts, both at the macro (multi-column layouts) and micro (lists, tables) level. The final third covers more of the nitty gritty like image drop shadows.
My only complaint with the book is the absoluteness of the solutions. I've learned that there's more than one way to solve a problem and that each solution comes with its own pros and cons. With that said, Bowers has done a formidable job documenting the various patterns and provided quality and tested solutions. It's a great one-stop shop for HTML and CSS solutions.
Pro CSS and HTML Design Patterns is a good reference to add to your library, no matter what level developer you are.