Review: Web Development Solutions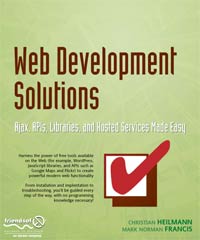 There is a recent book out by Friends of Ed called Web Development Solutions: Ajax, APIs, libraries and Hosted Services Made Easy. Web Development Solutions is a good book for those looking to learn how to build their own web site. It covers the popular stuff going into blogs these days.
This book, by Yahoo employees Christian Heilmann and Mark 'Norm!' Norman Francis, covered a lot of ground starting from the basics of Web development such as HTML, CSS and JavaScript and more advanced topics such as RSS, REST APIs and search engine optimization.
Chapter 1 is a quick introduction and describes some of the reasons why you might want to start a website, whether it is trying to make money, posting your resume or about your hobbies.
Chapter 2 explains some easy ways to create your own website using tools like Angelfire, Geocities and Blogger. After which it covers the basic technologies of Web development such as describing what HTTP and FTP are. There is a nice overview of image optimization, an explanation of HTML and what it means to have semantic HTML, and an introduction to CSS and JavaScript. Finally, it talks about what server-side languages are, using PHP as an example.
Chapter 3 is where things start to get a little more complicated going into setting up your own development environment including PHP and MySQL on Windows or the Mac. Finally, it goes through the steps of installing WordPress.
Chapter 4 includes an overview of RSS, REST APIs, CSS templates, WordPress themes and JavaScript libraries. It also talks of Web 2.0 services like Flickr and YouTube and what the social web means.
Chapter 5 expands further on REST APIs, going into Ajax (what it is and what it isn't) and how to use Ajax to help your visitors.
Chapter 6 covers integrating a number of these Web 2.0 services into your website including Flickr, YouTube, Odeo, and Google Maps and how to embed that content into your site.
Chapter 7 covers promoting your site. It talks of search engine optimization, blog aggregators, tagging, and cross-linking with other services. It also explains ways to promote your site using sites like Delicious, Digg, and Upcoming.
Chapter 8 talks about layout and navigation design.
Chapter 9 goes into depth on using special effects on your website. It explains what JavaScript can do and how that should be integrated into your site and then describes some JavaScript libraries that can be used including the pros and cons to using them. jQuery, YUI and MooTools are used to create a hierarchical menu.
Chapter 10 wraps things up nicely by including tips on how to find help and how to ask for help (which is probably just as important).
With a technical title like that I expected something a little more advanced. I was surprised to find that this was an introductory book for getting people online and publishing on the Web. The information is presented well; although I found some complicated subjects were introduced without much explanation but would discover that the topic would be covered in depth later in the book.
If you have a friend who's always bugging you to work on his website this might be a good book to get him.