Relae
Relae was the 7th restaurant on the quest to visit 50 of the World's 50 Best Restaurants before I turn 50. It was ranked 39th in 2017 and, unfortunately, fell out of the top 50 for 2018. It's also a Michelin 1-star restaurant.
Relae was a more relaxed and intimate vibe than Geranium. We were placed at the bar at the edge of the kitchen—an ideal spot to watch everything going on, including the two chefs prepping right in front of us.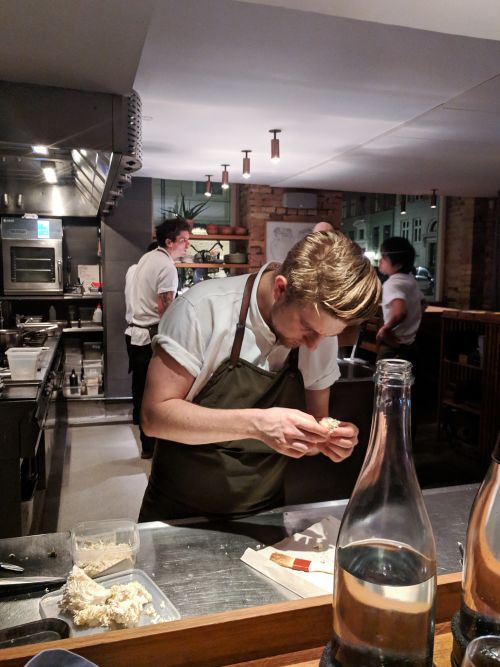 I enjoyed the chill environment with soft funk music playing throughout.
The restaurant offers a short and long menu and of course I went with the long menu. I went with the wine pairings while Kitt went for the juice pairings. Ever since I had a juice pairing at KOKS, I'm always delighted to see it at other places.
The courses came out in staccato, creating a very jazzy feel to the presentation. Different chefs and servers would show up to present and talk about a particular dish. We didn't feel rushed. Rather, we were delighted by the slightly frenetic feel of the evening.
Similar to Geranium, the meal was almost entirely pescatarian save for one duck course. (Well, maybe you'd consider it two courses since it was two dishes served at the same time.)
My favourite trio of courses was the seafood: squid followed by a bbq trout followed by a deep fried oyster. The BBQ trout, in particular was absolutely succulent and filled me with delight.
If you find yourself in Copenhagen, I highly recommend you find your way here. It's not too expensive, the food is fantastic, as is the overall experience.