Review: HTML and CSS Web Standards Solutions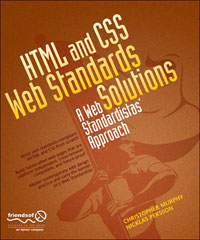 This book, HTML and CSS Web Standards Solutions, by Christopher Murphy and Nicklas Persson is subtitled, "A Web Standardistas' Approach." As you might imagine, the book takes a purist approach to teaching the basics of HTML and CSS to the reader.
Jumping into this book, I wasn't sure what to expect. By the end, though, I felt that this is more than just another book: it's a textbook. And that should come as no surprise as the authors are lecturers at the University of Ulster in Belfast. Each chapter builds appropriately on the previous and each chapter ends with an exercise for the reader. The exercise enforces what has been learned up to that point and sets the stage for the chapter to come.
In this sense, the book isn't a recipe book like others within the Solutions series at Friends of Ed, such as Web Development Solutions. One might expect each chapter to talk about a specific problem and focus on a solution for that. No, instead, HTML and CSS Web Standards Solutions is really a cohesive piece from beginning to end.
Break it down
The book is split into two parts. The first part covers HTML (specifically XHTML) and the second part covers CSS.
In the first part, the book takes a look at the basic structure of XHTML and a detailed look at semantic markup. From there, it looks at embedding images, linking pages together and finally, how to get your site online.
In the second part, the book teaches the basic CSS syntax and how to style text. From there, it looks at layout basics with one and two column layouts before jumping into lists. Finally, it looks at using external style sheets and troubleshooting.
The book ends by giving the reader plenty of direction and resources that can allow them to continue their journey.
Recommended
Remembering that this book takes a purist approach, there is no coverage of all the various hacks that may be involved to achieve cross-browser compatibility (namely, Internet Explorer). For the audience this book is targetted at, I think this could be a good thing. Let them understand how it could be or how it should be and then build on that knowledge from there.
I'd recommend this book to somebody who's just jumping into HTML and CSS development, or who needs to restart their skills using "a web standardista's approach".