Feed Subscriber Rates
Google appears to be the new champ when it comes to feedreaders. Bloglines for a long time had been my number one feedreader. It got bumped off the block by Netvibes, although they've both held fairly steadily. However, with Google now broadcasting subscriber totals, it seems they have a 50% lead over either.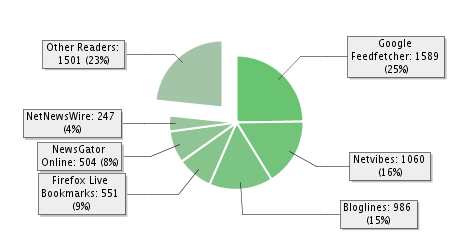 Happy days for me as I'd been itching to hit the 5000 mark, only to wake up today to see it hit 6400! For those that rely on advertising, in particular advertising within RSS feeds, I'm sure the more accurate numbers will be helpful.
Attrition Rates
On the flip side, however, is reader attrition. If I stop using Bloglines, and start using Google Reader, does it now look like you have two readers and not just one? What if I stop using these feed readers and give up checking your site altogether?
I highly suspect that these online feedreaders will continue to count subscribers as long as their accounts belong in the system. The longer your feed is around, the higher your subscriber numbers are; simply because people haven't closed their accounts. That's an inflated view that certainly isn't reliable.
As feeds continue to take off, the onus will be on feedreader developers to broadcast accurate numbers and they'll have to find ways to ensure that only current subscribers are counted.
Update: FeedBurner has a post about the view of the feed market which covers the issue of subscriber numbers. Yahoo is the only one that uses the last 30 days as a metric when broadcasting subscriber numbers. All others listed including Bloglines and Google are based on total subscribers. I'd like to see them all fall into line and only use the last 30 days as a baseline for tracking subscribers.