The Art and Science of CSS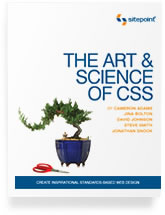 I have been keeping this under wraps but no longer: The Art & Science of CSS is out! I first got a peek at the book when the Sitepoint folks were at SXSW and it looks really nice. Luckily, I now have my own copy which I promptly pull out whenever someone comes over to the house. I also make sure to walk around the house with my pipe and smoking jacket saying "indubitably" quite frequently. Yes, that's what us authors do. *ahem*
The book is a full-color in-depth look at various topics of CSS web development like working with headings, doing an image gallery, using background images, styling up navigation six ways from Sunday, handling form design, having fun with rounded corners and finally, doing it with tables.
The Art & Science of CSS is not a how-to on learning CSS. There's an assumption that you already understand the CSS syntax. It's more like a recipe book, covering specific ways to cook up some delightful sites.
I took on the tables chapter while Steve Smith, Cameron Adams, David Johnson and Jina Bolton took on the rest. I think it was a little unfair of Jina to send in a professional photo. It made the rest of us look bad! Or maybe that's just me.